Happy Sunday!
We've had a nice relaxing,
sunny
Sunday afternoon. I'm really excited to be joining in on Little Miss Shabby's
Birdie Stitches Block of the Month.
Tomorrow a group of us are getting together at Kim's
Brown Bag Studio
to stitch our first blocks over brunch. As you can see, I've gathered my supplies. That's about as far as I've gotten, but that's ok, since the whole point is to get together to do the stitching! I'll be using a Nest jelly roll for the little border squares, white fabric (of course!) for the embroidered blocks and coordinating variegated Week's Dye Works embroidery floss. Also in my kit are my favorite little scissors, a package of English needles and a small hoop. I like this type of hoop because it's really easy to put on and off, move around, easy to tighten your fabric, if necessary. And, the nice small size makes it easy to hang onto the edge of the hoop and stitch at the same time.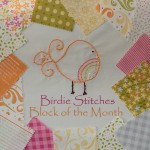 I've decided to do my stitching through just one layer of fabric. I've been reading on
flickr groups
and blogs about the pros and cons of stitching through an additional layer of muslin, or fusible interfacing or through the front, batting and backing, but honestly, this is the way I've always done it (one layer) and it works fine for me! So, why mess with is? :) When I made the
Winter Wonderland quilt
I did not back my fabric with anything and it turned out just fine!
I'll keep you posted with our progress. It'll be a fun year of stitching.
-Cindy